on
May 23, 2017
at
12:01 am
on
May 22, 2017
at
12:01 am
Moving right along with my retrospective of comics I bought in June 1967, my own personal "Golden Age Of Comics"! I was still in school and still walking home a mile uphill most days — and would continue to do so until June 22nd. 1967 would turn out to be one of my shortest summer vacations, but it was also one of the most memorable and SEEMED like it went on, idyllically, forever! A large part of that I attribute to new surroundings and new friends, but a lot of that is due to my new found obsession with comics.
Now, up to this point, you, the reader, may have noticed that MOST of my comic purchases were DC comics. This was NOT by design. Rather, it was purely circumstance as DC was the publisher of Batman comics and I was addicted to the Batman TV show. In later years, I discovered collectors fell into one of two camps… DC Comics fans and Marvel Comics fans. I would cast my lot with DC. At this time in my comics life, however, I was NOT so rigid and tended to gravitate to whatever comic tickled my fancy at the moment. For instance…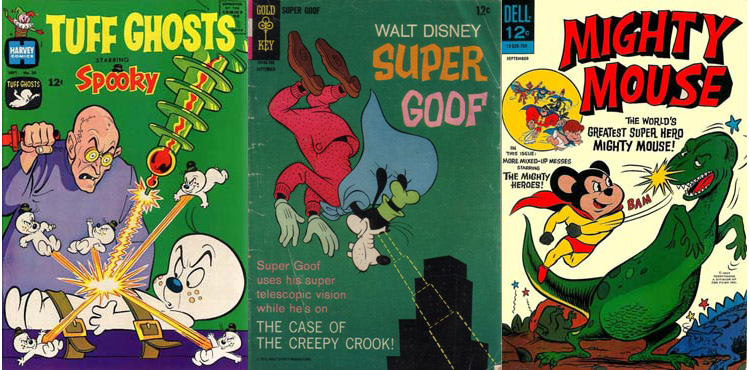 TUFF GHOSTS starring Spooky #30 — The mad scientist on this cover was super cool looking to me and the color holds used on the red and yellow duplicator ray gave it a nifty almost 3-D effect. Although this cover scene happened NOWHERE inside the book, I loved me some Spooky! He was way more mischievous than that namby-pamby Casper!
SUPER GOOF #8 — Who doesn't love Disney comics? And taking one of the classic Disney characters and turning him into a super hero? Sign Me UP! I also really dig the "telescopic vision" gag on the cover.
MIGHTY MOUSE #170 — I liked the Might Mouse cartoons well enough, but the comic books weren't really a part of my life. I bought this one, though, because… THE MIGHTY HEROES!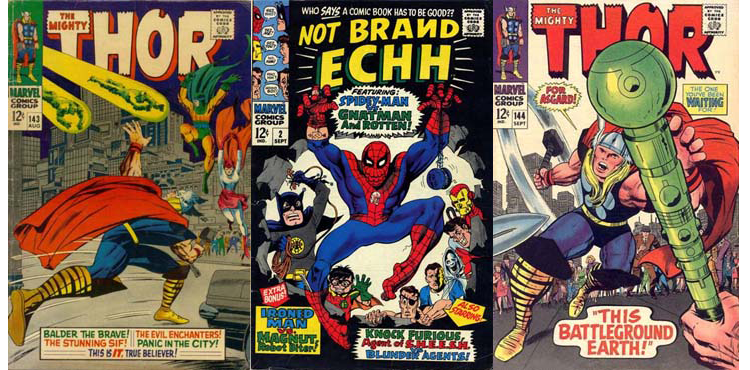 THE MIGHT THOR #143 — I REALLY loved Thor! He was like Superman with a big, honkin' hammer! I didn't always follow what was going on with the soap opera-like subplots, but I admired the majesty in the art. The fat guy, Volstag, kinda creeped me out, though.
NOT BRAND ECHH #2 — It had Batman (sort of), so I was forced to buy it! Over the years, I found reading NBE a good way to stay abreast of what was going on over at Marvel, so when I got back into Marvel Comics in college, I wasn't totally lost. Parody with a purpose.
THE MIGHTY THOR #144 — Due to some arcane vagaries in the distribution system of the day, I was able to get two issues of Thor in the same month only three weeks apart. Go figure…
More next time… a DC explosion!