on
May 1, 2017
at
12:01 am
Hello! Welcome to the first of a new series of Blog entries specifically aimed at fans of Broderickomics. 2017 marks my fiftieth year reading and collecting comic books and I thought it might be interesting to see where, when and how it all started and how my career and comic philosophy were formed. I firmly believe that the things you enjoyed most as a child have the most profound effects on you as you grow older. With this series of essays, I hope to peel back some of the layers of my inscrutable collecting and reading habits. Let's begin, shall we..?
First off, I wasn't always a comic book reader. They just weren't on my radar. My exposure to comics was mostly what I could read in the daily and Sunday newspapers (Pogo, Li'l Abner, Peanuts, Dick Tracy, etc.) and, of course, cartoons on TV. My favorite was, and still is, Popeye! I was even on the local kid's show, Cap'n Jim's Popeye Club (on WPXI, then WIIC) at the age of five. I sat in the "peanut gallery" and got to tell a joke (which I messed up) and sing the Popeye song on camera!
Also, Woody Woodpecker, Mighty Mouse, Courageous Cat… I was very much a coloring and "How To Draw" book kind of kid. But, no… I wasn't into comic books… YET.
Cut to the summer of 1965. I was in the hospital having my tonsils removed that July (a three day hospital stay in those days) and someone, my grandmother, probably, bought me a copy of Little Lulu At Summer Camp. I remeber kind of liking it, along with some Disney comics tossed my way over the years (I remember reading the story about the Terries and Fermies)… but, comic books per se STILL weren't on my radar…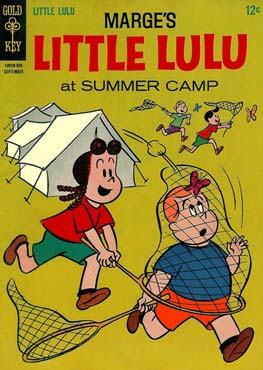 Then came January 1966 and the premiere of Batman on ABC TV… to be continued, Same Bat Time, same Bat Channel!