on
May 29, 2017
at
12:01 am
Continuing my reminiscences of my first year reading and collecting comics, 1967. It's early June, now, and most of my friends are out of school for the summer. Me? I was STILL going to school everyday and would be until the 22nd of June… AND walking home (most days), uphill, almost a mile and stopping for a rest at the local pharmacy, where I'd procure the latest in four color wonderment…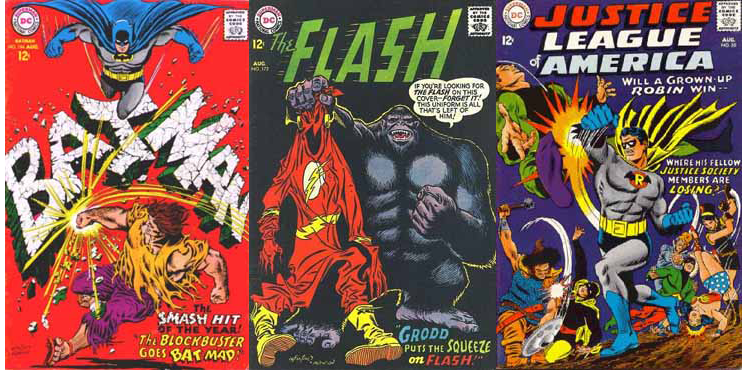 BATMAN #194 — This was another uber-cool Carmine Infantino cover design. It was so striking that it took me almost a week to notice that DC had stopped using the Go-Go Checks trade dress (plus, no actual Batman logo, but I didn't mind). I didn't know who the Blockbuster was but I thought he was an "okay" Batman villain… more like a petulant child than actual bad guy.
FLASH #172 — There was a kid in my old neighborhood that I didn't particularly get along with who always said "Flash is better" when I'd wax poetic about Batman, so I resisted buying this comic for a long time. My nine year old reasoning was "if (name withheld) liked Flash, he couldn't be very good"… I'm happy to say I was WRONG in that assessment! I guess even a blind squirrel will find a nut now and again. And my first exposure to Flash's Rogue's Gallery was Grodd… BONUS!
JUSTICE LEAGUE OF AMERICA #55 — In the 1980's, when DC started Crisis, one of the reasons they gave for the change was that "multiple Earths was too confusing to the readers". I never bought into that because, even at nine years old, it took me about three captions to grasp the concept that the JSA was a different version of the JLA on a different Earth. I must admit, however, that I purchased the book mainly on the merits of the giant "grown up Robin" on the cover. I really liked the other JSA characters a lot, too. I thought it was kinda funny, though, that they had a character called "Mr. Terrific" because, Mr. Terrific was one of my favorite TV shows at the time and this guy looked nothing like him.
My Mr. Terrific was a mousey little guy named Stanley Beamish who took a power pill and gained super powers for an unspecified amount of time (generally and hour). He'd put on a glittery silver/gold strait jacket looking ensemble with wing flaps under the arms and aviator goggles. It was a half hour comedy on CBS which ran opposite to NBC's Captain Nice. In the prehistoric days before VCR's or DVR's, I watched Mr. Terrific during the regular TV season (as it was the lead in to Gilligan's Island) and Captain Nice over the summer rerun season. We had to be creative in our TV viewing choices back in the day… these kids today just aren't down with the struggle. But, I digress… on with the comics…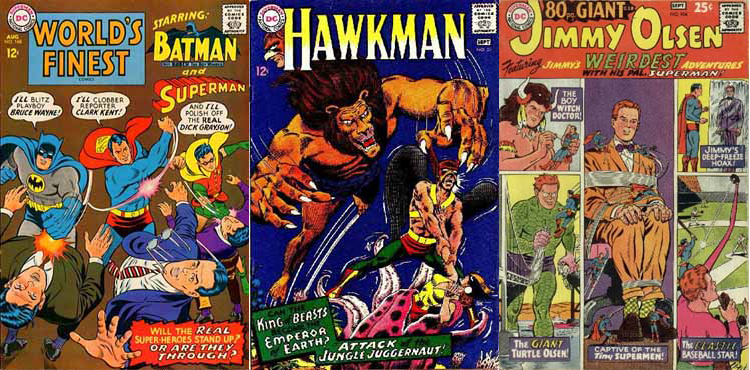 WORLD'S FINEST #168 — The drug store I got my comics at had a gigantic front window and the magazine rack was right in front of it just as you walked in the door. The window was usually covered by a large amber shade, I assume, to prevent the magazines and comics from yellowing in the late afternoon sun and/or to keep it cool inside the store because the single window air conditioner couldn't do the job all alone. Anyway, the brownish background of this cover fairly glowed in the light of the amber shade! Other than that, though, the cover had absolutely NOTHING to do with the story inside the book, which was the return of a character called the Composite Superman — a half Superman, half Batman character with green skin and all the powers of the Legion Of Super-Heroes. I spent way too much time trying to figure out the correct way to pronounce "composite" and eventually had to look up its meaning in the dictionary. I hate when that happens!
HAWKMAN #21 — This book puzzled me some. I had very briefly seen the cover to the previous issue (which was quite similar) and thought that somehow, it was the same book and I could've SWORN that the cover was different and I was remembering it wrong. This was in the days before multiple covers and it took me several years to solve the mystery.
80 PG. GIANT JIMMY OLSEN #104 — This was the LAST comic I bought on my way home from school on my LAST day at my old school and what a splendid way to kick off my summer vacation in my new life it was, too! It featured Jimmy's WEIRDEST adventures and gave my my first exposure to Elastic Lad, the Wolfman of Metropolis and the Giant Turtle Olsen! My comic collecting course was set and it was full speed ahead!
Happy Memorial Day! More to come next time…